Daishu-in West
大珠院 ウェスト
Daishu-in West is a Rinzai Zen Buddhist temple located near Benbow, California.  A branch of the Myoshin-ji sect of Japanese Rinzai Zen Buddhism, the temple was founded in 1994 by the abbot of Daishu-in in Kyoto, Soko Morinaga Roshi.  
Daishu-in West offers the traditional Rinzai monastic schedule to all visitors. We welcome both new and experienced practitioners to participate in an environment designed to realize our True Nature.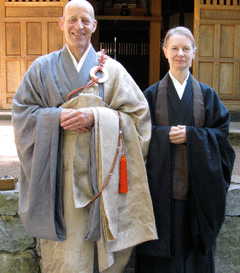 Two of Morinaga Roshi's disciples, Shaku Daijo, ordained in 1979, and Ursula Jarand, came to America to build the temple and lead the practice at Daishu-in West.
Daishu-in West has a Zendo (meditation hall) and Hondo (Dharma hall) built using traditional Japanese joinery, a traditional Japanese bath and well-maintained grounds. Under the leadership of Karl Bareis as head carpenter and the support of the Sangha in America and Japan, the Hondo was completed in 1996. Construction of the Zendo was  completed in early 2002.
Daijo Osho died in April 2018 and is interred next to Morinaga Roshi at Daishu-in West.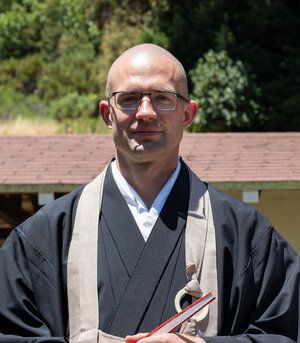 Shaku Kojyu came to Daishu-in West in 2007 and was ordained in Kyoto the following spring.  He was at the training halls in Daitoku-ji and Kosho-ji for ten years before returning to America.  After the death of Daijo Osho, Kojyu was installed as the second abbot and now leads the daily practice at Daishu-in West.